A few weeks ago, I put this website down on Colleen Doran's "What Are You Working On?" post. She took everything there and evaluated it for her first Creator's Grant Prize.

Well imagine my surprise when I found out that I won Second Runner-Up!

Yeah, I know I didn't say the runner ups were going to get anything, but there you go. Never let the idea that not being #1 at something means there are no rewards to being #2.

Or even to being #3.

Michael, otherwise known as Wizardimps when he posts to this blog wins for The Legion Omnicom, because I am an ancient Legion of Superheros fan , and holy crap what a lot of work that blog is, tons of fanboy research, and I am impressed. And OK, I am totally prejudiced and he wins because I am a Legion fan, so there you go. This only proves that judges can be completely arbitrary in their decision making processes.
The online comic
Busted Wonder
won the main Creator's Grant prize, with
Suso Fashions
as first runner-up and
Marina Lemar
as third runner-up. Congratulations to my fellow Creator's Grant winnahs!
Now I have to make a little icon button to put on the side somewhere. Wow, whod'a thunk I'd win something just for doing this?
For those of you who aren't familiar with her, Colleen Doran is, as she says, a long-time Legion fangirl. She's got a special crush on Element Lad. You may remember her from the "
Young Love
" issue of LSH v4 with Element Lad and Shvaughn/Sean Erin, or for the last ten issues of "
Valor
". She also did lots of pinups in the various "Who's Who" books, including "Who's Who in the DC Universe" and "Who's Who in the Legion". Guess who did the Element Lad pages?
Of course, she's also big into Lord of the Rings and her magnum opus, "
A Distant Soil
". You can find her over at
her blog
at
adistantsoil.com
.
I've been lucky enough to meet Colleen at conventions over the years, and I've bought two of her Legion pages. Click each to enlarge.

From the Young Love story in LSH v4 #31, here's p. 17: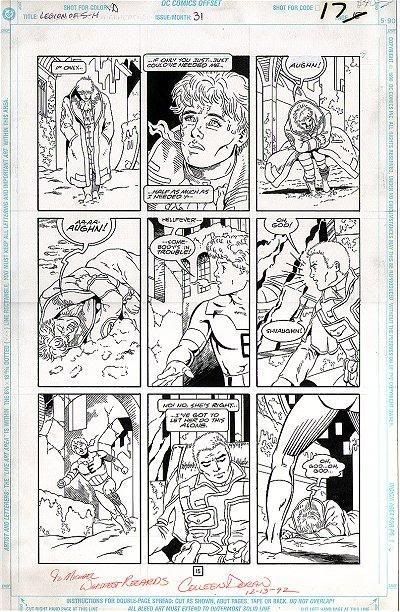 From an End of an Era story in Valor #22, here's p. 10: