Annotations for Timber Wolf miniseries

Issue 1 went on sale 10/6/92, same day as LSH v4 #36. Issue 5 went on sale 2/2/93. In between, we had Valor #2-5, LSH v4 #37-41, L.E.G.I.O.N. #47-50, and Legion Archives vol. 2. The week after Timber Wolf #5, Legionnaires #1 came out.
It's OK, I'm a Senator: None, as the Bierbaums didn't write the miniseries
Legion of Substitute Podcasters episode 624 (September 28, 2020)
Timeline: June 1992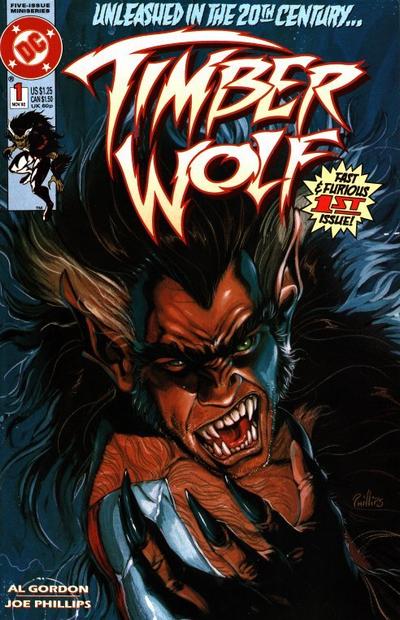 Turns out there's really not a lot in this miniseries to annotate. Timber Wolf was spun out of LSH v4 Annual #3 into his own 5-issue miniseries in 1992-93, which featured Aria (from the Quiet Darkness storyline) and a new government group of metahumans called Point Force, in a story by Al Gordon (writer/inker) and Joe Phillips (penciller). At the end of the annual, when Brainiac 5 found that Brin Londo had gone back in time, he wrote in his journal:
"The 20th century being that we Legionnaires (including Brin) assumed the Timber Wolf name was taken from has now been proven to be Brin Londo/Timber Wolf himself… It would now seem Brin's involvement in 20th century history was quite pivotal at certain junctures. And as quaint as it might sound, Brin/Timber Wolf has now seemingly fulfilled his destiny."
It did not set the comics world ablaze.
While in the 20th century, not only was Timber Wolf's involvement NOT pivotal, he literally made no other appearances outside of this miniseries, and was back in the 31st century a mere 6 months after the end of his title. It was obvious that DC had high hopes for the series, and just as obvious that it didn't catch on. But it was early enough in the cycle that Timber Wolf was able to get a card in the 1993 DC Cosmic Teams (Skybox) set as one of the "New Breed", along with Valor.
In fact, Thrust and Point Force disappeared after this series, too, though Thrust got an entry in Who's Who Update '93 #2 (see below). Let's assume they all didn't make it out of Zero Hour alive; if they had, they were small enough and obscure enough to have been cannon fodder for the Event Leviathan series which streamlined DC's shadowy government organizations.
Brin's next appearance is in Annual 4, the Bloodlines story: Timber Wolf is accidentally pulled back into the future (along with Jamm and a Bloodlines monster), and he never mentions Aria. I haven't read further ahead to see if he mentions her after this. The annual was published the same day as LSH v4 #47, which we won't get to in the podcast until around April 2021, so if Timber Wolf is your favorite Legionnaire, you've got about 7 months (podcast time) until we see him again.
Speaking of Aria, Al Gordon took her immediately from the Timber Wolf miniseries over to Image Comics, where she changed her name from Gemini to Skylark and helped out Wildstar and Savage Dragon. Given that Zero Hour was a couple of years away and - although nobody realized it at the time - the Legion was going to be rebooted so if we lost track of Aria, well, no big deal, as DC wasn't going to use her anyway. Gordon kept the look of Aria and the "step between God and Man" thing and she said she was from 1000 years in the future, so yeah, it was Aria over at Image.
I guess that means that Aria is the only survivor of the 5YL timeline! She survived by hopping over to the Image Universe.
Aria can probably go hang out with Enya Wazzo of R.E.B.E.L.S., the female Inferno from the Reboot, and Infectious Lass (left behind at the end of the Team 13/Architects and Morality story) and create a super-team, since all of them went back in time and were left behind by the Legion. (I stole this joke from someone but don't remember who, sorry!)
Notes:
Issue 1 is lettered by "Coffin N. Cord", which is obviously a pseudonym. I asked Todd Klein on Facebook whose work it was, he said that it's John Workman, who probably did it as a joke.
In 2009, letterer and logo designer Todd Klein had a 5-part series analyzing the various Legion book logos over the years. About the Timber Wolf logo, he wrote in part 4:

In 1992 another mini-series featured TIMBER WOLF, perhaps chosen for his similarities in some ways to Marvel's Wolverine. I thought the logo was the solo work of Alex Jay, but Alex emailed to say: "Please give credit to Curtis for the Timber Wolf logo design. He provided two sketches with his notations. He left it up to me to work out the details…" Curtis has gone all the way to create an organic, scratchy, dangerous logo that matches the character's look and personality.
This logo makes an appearance on the Timber Wolf "cover" collage on LSH v8 #9.
I'm presuming that sales figures are the reason that this was quickly walked back and Timber Wolf sent back to the 30th century. I don't have total sales figures, but I do have figures from one of the several distributors in 1992-93, Capital Cities. That's the only distributor we have numbers for from that era, and there were several other distributors at the time (including Diamond, which was the biggest, but we don't have their sales numbers). We also don't know what share of the market that Capital Cities had, so we can't estimate total sales, only relative sales within the distributor.
We do have Capital Cities data on other Legion issues cover-dated Nov 1992:

Valor #1 – 29,600
Timber Wolf #1 – 22,000
LSH v4 #35 – 13,750

And for March 1993, the last issue of Timber Wolf:

LSH v4 #41 – 14,100
Valor #5 – 13,800
Timber Wolf #5 – 12,400
Remember, though, these are numbers for only one of many distributors and we don't know what Capital Cities' market share was (if we did, we could scale these up to get total estimated sales).