Hmmm. Apparently I previewed the Justice League Heroclix set back in August but never followed up.

Here are the new figures that came out in September in the Justice League set - the Silver Age Bouncing Boy, the current Dream Girl, the Glorithverse Tharok, and the post-Zero Hour Time Trapper (complete with their comic cover inspiration where I have found them).

Is that picture of the Time Trapper holding the cube with the different "L" symbols on it an interior picture? I couldn't find it on any cover. Looks like the Time Trapper picture is from a panel in LSH v4 #105, on which they also based the Vs. card. Thanks to Scott for the heads-up, I knew it was familiar but I thought it was on a cover.

And I'm not sure where the image of Bouncing Boy might have come from - he didn't get many covers, and the only recent one I could find was LSH v2 #304 (but he was completely round when drawn by Giffen, not a ball with a head, arms, and legs).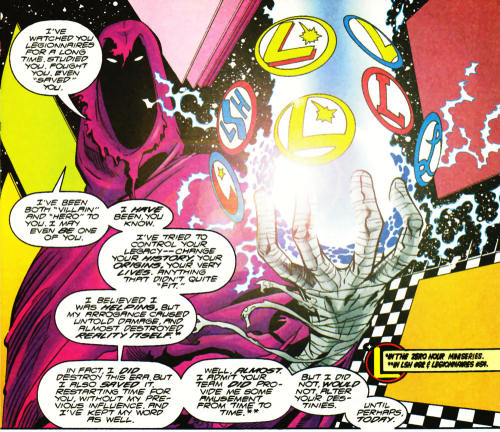 Plus a Legionnaires card that I'm sure lets you do something cool with it: