A couple of months ago I set up a poll to see what you thought the sales would look like on the first issue of "Legion of Three Worlds". Well, the results are in.

It's a good thing that exactly 100 people voted. That makes the math much easier. The most popular vote was 60,001-70,000 with 27%, followed by 50,001-60,000 at 23%. Actual sales as reported by THE BEAT: 68,306. (I had predicted a start in the 70s, so I wasn't far off.)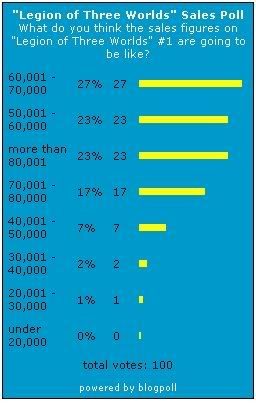 Here's how the sales data for the Final Crisis spinoffs were interpreted at our official source for sales data,
THE BEAT
:
20 - FINAL CRISIS: LEGION OF 3 WORLDS
08/2008: Legion of 3 Worlds #1 of 3 — 68,306

22 - DC UNIVERSE: LAST WILL AND TESTAMENT
08/2008: Last Will and Testament #1 — 67,063

26 - FINAL CRISIS: SUPERMAN BEYOND
08/2008: Superman Beyond #1 of 2 — 63,137

29 - FINAL CRISIS: REVELATIONS
08/2008: Revelations #1 of 5 — 58,434

Following the pattern established by Final Crisis and Final Crisis: Rogues' Revenge, August's new set of spin-off titles all come in with underwhelming sales.

They seem to be in the same league as the competition's Secret Invasion: Thor, Secret Invasion: X-Men and Secret Invasion: The Amazing Spider-Man, granted, but let's keep in mind that those books provide random and repetitive punch-'em-ups which are cursory at best to Secret Invasion proper. The Final Crisis spin-offs, on the other hand, were promoted as major parts of the storyline and are by the company's top-flight creative personnel.

That none of them managed to crack 70,000 units certainly supports the notion that the market was tired of Final Crisis long before the first issue shipped. The fact that their debut issues are all cuddling up within 10,000 units of each other also suggests that retailers didn't quite know what to do with them, mind you, so it's still possible that we're going to see some major corrections in the next few months.

Record of gimmicks: All of these comics were supported with 50/50 variant-cover editions. All of them had a $ 3.99 price tag, except for Final Crisis: Superman Beyond #1, which was $ 4.50 and came with a set of cardboard 3D goggles.
Polls are still open for your prediction on the final issue.