I hate having two good posts this close together (if you haven't seen it, I've got my Festivus 2008 post right below this), but here are some new goodies about Smallville.

Kryptonsite has a gallery of new photos from the episode, including one of episode writer Geoff Johns with the Legionnaires and one of the Persuader: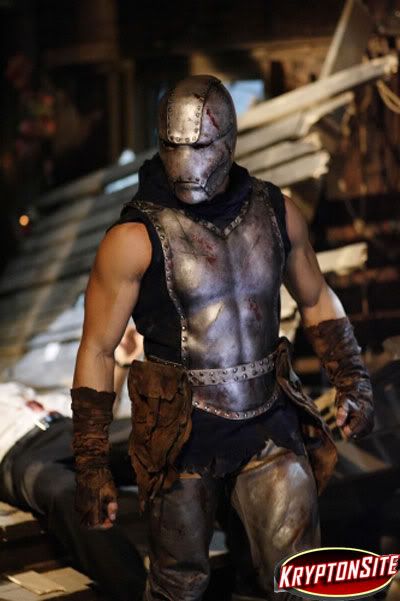 Here's the episode description, also from Kryptonsite:
The CW's Official Description (Added 12/20/08): DC COMICS' LEGION OF SUPER-HEROES ARRIVE IN SMALLVILLE FROM THE FUTURE TO HELP CLARK STOP BRAINIAC AND THE PERSUADER — The aftermath of Doomsday's (Sam Witwer) attack on Chloe (Allison Mack) and Jimmy's (Aaron Ashmore) wedding leaves Clark (Tom Welling) in shock, but before he can search for the kidnapped Chloe, The Persuader (guest star Fraser Aitcheson) appears and attacks him. Rokk (guest star Ryan Kennedy), Imra (guest star Alexz Johnson) and Garth (guest star Calum Worthy), also known as The Legion, step in from the future to help vanquish the Persuader and the group realizes Brainiac has taken over Chloe once again. Meanwhile, up at the Fortress, Chloe, as Brainiac, informs Davis he is Doomsday and was created to kill "the other Kryptonian" and destroy the world. Glen Winter directed the episode written by Geoff Johns (#3T7461).
(also: Kryptonsite's
message board
thread about the episode.)
Note that the Persuader actor's name was misspelled in the original description but fixed and linked here.
And here's the new trailer: