Updated 3/12: Adam Wylie (best known as the young Zach on the TV series Picket Fences) is the voice of Brainiac 5. Thanks to poster Sheer over at LegionWorld.

A LegionWorld forum member named Hurrikane has posted on 3/11 what he says is a concept drawing of Brainiac 5:

Compare that with the original group shot, later
verified (by Bruce Timm)
to be by series head James Tucker: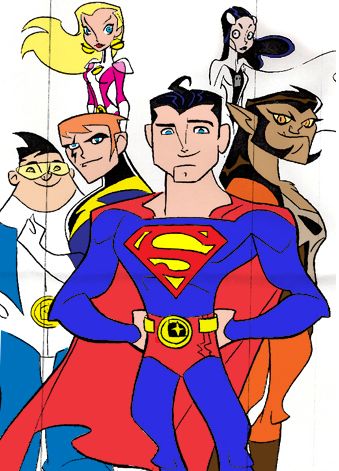 The first thing that jumps out is that it shows Brainy as some sort of robot (like his ancestor) or cyborg. The second thing is that the drawing styles are different. The Brainy picture is signed by what appears to be "Tucker", but the face doesn't jibe with those on the group shot. Given that the group picture was an early concept drawing and that Timm has said the style of the Legion show has gotten closer to the regular DCAU style (more Timm-ified), it's possible this is more reflective of the animation style. It's better than the original as seen in the group shot.